Sample file download
| | | |
| --- | --- | --- |
| | require | note |
| marketplace | yes | us, ca, mx, uk, de, es, fr, it |
| asin | yes | |
| price | yes | > 0 |
| quantity | yes | > 0 |
| sku | no | |
| handling_time | no | how many days before shipment |
| timezone | no | e.g. Pacific Time (US & Canada) |
| start_date | no | 2019-04-28 |
| end_date | no | 2019-04-30 |
| start_time | no | 03:00 |
| end_time | no | 06:00 |
Listings will be charged 5 credits each when first-time imported.
For those that using scheduling feature will be charged 5 credits every 30 days.
Open the management page
① Single product import
Select the corresponding site, fill in asin, and click to import
② bulk import
Click "bulk import" to display the following page

Click "sample file" to download the corresponding template, fill in the template, and click "select file" to import the template.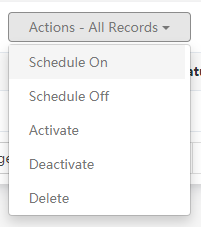 Select the corresponding product or click the switch to select "activate" and "schedule" or not.